Khao Luang, Hui Yang, Thailand
Find the best deals on accommodation at Thailand right here!
Khao Luang , Hui Yang, Prachuap Khiri Khan Province located on Hui Yang waterfall National Park in the groups of Tanoun Sri Mountain and in the south of Keang Kra Chan National Park in the west of Thailand from North to South. This forest is fertile with woods , animals and a source of a river.
Hui Yang waterfall was announced for National Park in 1991 because it is the fresh and green forest all year round. The peak of mountain is 1,250 m. from sea level.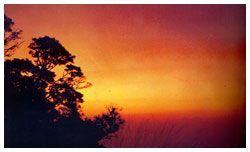 The best way takes us for coming Hui Yang waterfall by own car or by bus to get off Tub Sakae or cross road at Hui Yang , go by car to Hui Yang National Park. You should sleep enough to walk up the mountain.
The route goes along Hui Yang . The left way is old steep way. The right way is not steep. We pas through the crowded Memecylon edule Ridl's forest . We see Aeginetia indica L. on the forest floor until we arrive at Hub Ta Kian. We fill water in our water canteens to go up to the mountain at Ton Phung for stopping eating. It is a big rocky yard with 15 beehives or more . We will see the jungles that originate to be stream or a river with moss, fern, Balanophora fungosa, Aerides falcatum Lindl..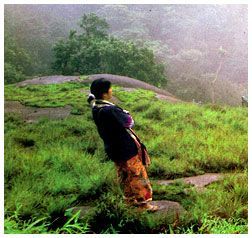 We go along a steep path to stop at Tubtake. Here is suitable for spending the night. Ke means porcupine . There are plentiful procupines . We go to a ridge of a mountain about 1,200 m. for sea level. We have a chance to sea Liparis sp and Calanthe triplicata, go ahead to a long hill call "Nen Wat Jai". At3 p.m. we go through the east cliff call " Na Pha Chom View". We see Curcuma parviflora Wall in the end of March or April . In the east scenery , it is Had Wanakon, we sea Koh Jarn looks like a whale in the middle sea.
They hide in a mass of grass. They are different colors on their body. Pandd crab was found in the first time at Nhgaw waterfall , Ranong Province. It is rare forest crabs in the source of freshwater. Most we have seen in the south Province such as Ratchaburi, Prachuap Khiri Khan, Ranong , we expect to see them in other provinces.
Another home of Pandd crab is on the peak of Khao Luang (Yod Khao Luang) round the groups of Tanoun Sro mountain. Another camping yard, you turn your face in the east , pass through the jungle and brook, cross the brook up to the camping yard. When you stand in the front of cliff, we will hear a loud wind all time. The bottom abyss is about 300 m. or more.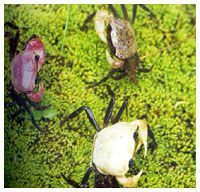 On the big stones, we see many plants : orchids, Wax Vine , Begonia. In the west of the groups of Tanoun Sri mountain, we can see the fertile jungle of Burma.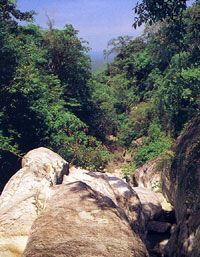 Yod Khao Luang , Hui Yang in the groups of Tanoun Sri mountain consists of jungle, rare wildlife animals , plants, waterfalls such as Hui Yang., Khao Lan, Ka On.