Chiang Mai Zoo, Thailand
Find the best deals on accommodation at Thailand right here!
Chiang Mai Zoo is the first and only one zoo in the North. Located on the foothill of Doi Suthep, near Chiang Mai University. With the beautiful landscape, coveredc the hillside and mountainous tropical rainforest, you will touch the clean, fresh air in the Zoo which is the nearest jungle of the city, ' At the view point you can see the beautiful scenery of Chiang Mai city.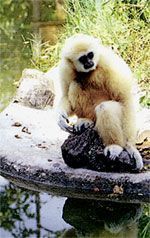 The camping area is one of our facilities which you can contact in advance for camping. The Zoo keeps various kinds of rare wild animals of native and tropical zone. More than 6,000 animals of 69 species of Mammals , 311 species of Birds, 15 species of Reptiles and 60 species of fresh water fishes. Some species are very rare endangered and strongly protected in Thailand, for example the Fea's muntjak, the Malayan Tapir, the Asiatic elephant with newborn cub, many of tropical birds and reptiles. All of them look well in their enclosures which improve like their natural habitat and provide for natural requirement. The Zoo is very concerned for the animals right and respect to all of our animals in the collection.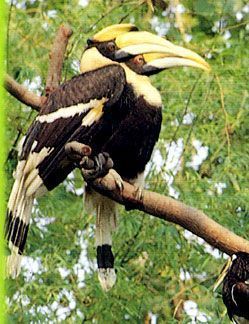 Deer Park collect over hundred deer of tropical species. In the big park about 40 acre. You can feed the deer at the terrace. Touch of the nature of the waterfall the flying bird in Nakonping walk-though aviary. You can walk in the big aviary about 2.5 acre. It suitable for peoples whom like bird watching.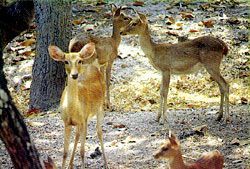 Fresh water aquarium, it is the center of beautiful and rare about 60 species for education of Fresh water fish.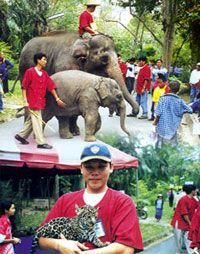 Children's zoo the land of happiness for children and family with small domestic and pet animals such as Rabbit, Pony, Turkey children playground. The stuffed animals, education room.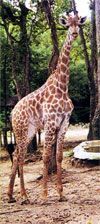 The star animal : the nice Humboltd penguin in the air-condition's room, Cape Fur Seal you can see it swim in the swimming pool. On the species occasion day we have a feeding show 2 times daily at 10:00 AM and 3:00 PM.
Chiang Mai Zoo the amazing land about 212 acre with the nice landscape. Covered the hillside and mountainoustropical rainforest and has modern zoo management.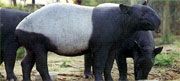 Touch the zoo animal and suitable exhibit, the stars animals such as Humboltd penguin, Cape Fur Seal , Baby elephant born in the zoo, Indian Rhinoceros, Nakornping walk-through aviary ; over the area of 2 1/2 acre, Fresh water aquarium, children's zoo, deer park and camping area surrounding with reservoir, flower, fresh air and high point of foot hill and you can see the clear and nice scenery of Chiang Mai city.