Travel Around - Mode of Transportation
There are several means of transport available for your service, in addition to Private Cars or Vans where you can rental from the car rental company. It can be interesting for your to note down the different possibilities as an independent traveler.
TAXI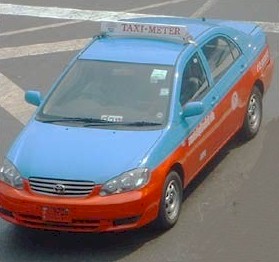 99% of taxi in Bangkok are clean, air-conditioned, and comfortable. In Bangkok, taxi are all over - 24 hours a day and 7 days a week In short, you do not have to be afraid that there will be no taxi available late at night. The fares are determined by Electronic meters, starting at 35 Baht once you hop on, and rises about 2 Baht per kilometer or per minutes if traffic jam.  Beware to observe that the taxi roof has a sign written as "TAXI METERS".   A very small number of unethical taxi drivers may not want to use their meters or ask for some extra tips after your journey, so you as a foreigner should know that this practice is absolutely illegal. You can strongly refuse, note down their taxi license number and notify the police.
TUK-TUK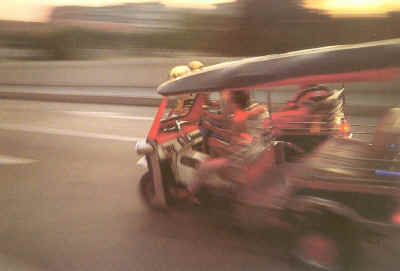 This is three-wheeled and open-air taxi, unique in Thailand with canvas roof (or rickshaw)  It is popular among Thai as well as foreign tourists. Getting a chance to have a ride is fun, once you are in Bangkok.  This is no standard fixed rate; you must bargain and agree a fare before the trip.
CITY BUSES
Travel by city buses within Bangkok is probably one of the cheapest in the world.   There are regular, public air-conditioned and non-airconditioned buses with different of capacity, route and fare.
The non-A/C city bus (red) covers nearly all areas of Bangkok. Routes could be determined from most city maps which are available for sales in many bookstores. The fares is 3.5 Baht (1 cent) per trip only.
The air-conditioned buses, sharing similar routes, provides more comfortable seats, from the Bangkok heat. The fares are determined by the distance and collected by a bus conductor.
SKYTRAIN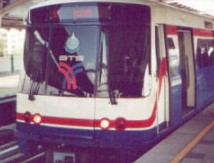 Bangkokians just recently have an opportunity to choose a ride on their long-waiting Skytrain which was just open up on 5 December 1999 (our king's birthday). The construction was invested by a multi-millionaire Thai company which turn out to be their financial nightmare although the project completed.  The network runs through the heart of the city and the terminals are located on the most commercial areas such as Silom, Siam Square, Sukhumvit, Ekamai, Chatujak Weekend Market and more. Prices varies upon the distance, but starting up from 15 Baht. 
LONG-TAILED BOATS
Transportation by boats was, in fact, the primitive way of transport for the Thai people. However, as the city  grows, many canals were dwindled - but some still survive and serve a large number of Bangkokians to travel quickly.   These boats served as taxi and many of them can be found running along the great Chaophya River between different piers.  Moreover, they run into the inner canals like tributaries into some main parts of Bangkok. From the main streets in Bangkok, you may not be able to observe that there were piers because they are generally hidden inside small lanes mostly around 100-200 meters away. It is one of the most popular transports during the rush hours and people have to queue. The fares are varied depending upon the distance. (People queue on the pier to board these taxi boats during rush hours. The strange and absolutely opposite scenario to boarding the public regular buses, especially during the rush hour.  For public bus,  there is no queue; if you were smarter, stronger and faster, you got a better chance to board the bus during rush hours.)
MICRO BUS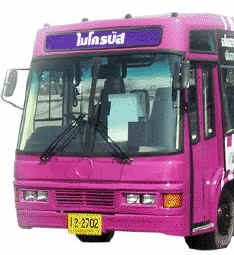 As its name implies, these buses are smaller than public buses with air-conditioned, but better comfort. They are run by private company.  Seats are guaranteed if you were accepted on the bus and there is a TV as a sort of entertainment during travel. Fare is flat rate of 20 Baht per trip.
MOTORCYCLE TAXI
Perhaps Bangkok is the only place in the world where you can find motorcycle taxi. As the word says - "motorcycle taxi" means you hire a motorcycle, and of course, with a rider to travel. No fix fare, you have to negotiate. If you found one who could speak English, it's like you win a lottery.   This profession arises due to great demands for faster transport during bad traffic and it grows quickly during the past recent years. You can find them almost everywhere in Bangkok. They wear a typical type of no-sleeves shirts of varied colors ranging from red, blue, yellow, velvet and ... with number at their back. Generally, Bangkokians can distinguish them easily from other motorcyclists.  Only one passenger is allowed and most of them have another helmet ready for their client.
KAPOR
These are the small open-air van but with aluminum or leather roof. Generally, it runs over a short distance and serve the people in a certain residential areas which are quite far off to walk to main streets. The fares are mostly inexpensive, sometime not posted, but well-known among the frequent transporters in that area.
PROVINCIAL BUSES
These buses run from Bangkok to the other provincial cities and towns in Thailand. There are 3 main stations locally called "Morchit" (Northern Bus Station), "Sai Tai" (Southern Bus Terminal for South & Western Route) and "Ekamai" (Eastern Bus Terminal).  If you called a taxi to get to these terminals, you should tell them by "local name" as everyone knows it.  There are both A/C and non-a/c and as usual the fares are very cheap.  For example, you can travel to Pattaya from Bangkok at Ekamai for just 70 Baht (USD 2) per way per person, and around 300 Baht (less than USD 10) for Chiangmai.  Tickets have to be purchased on spot.
TRAIN AND THAI RAILWAYS
The main Central Railway Station of Bangkok (and actually of Thailand) is called by local "Hualumpong".  The fares are also inexpensive; and divided generally into 3 classes depending upon the routes. i.e.: First, Second, and Third.  First Class trains are mainly available for longer route such as from Bangkok to Chiangmai or to Surathani (gateway to Samui and Phuket) or to Hadyai.  Bogeys were divided into private compartments with sleeping berths (pillows and blankets) and a washing basin - of course, these are air-conditioned.
Second class trains like First Class are for longer journey, and divided into air-conditioned and fan.  There are no private compartments, but with lower and upper sleeping berths (pillow and blanket will be provided at night). 
Third class is for both long and short journey and non-A/C. No advanced purchase of ticket and no seat reservation.  In other words, buy it and sit where-ever you want to.  During Thailand long holidays, the tickets are sold unlimited - for those who hop the trains later have to stand or sit on the roof.
Only first and second class trains ticketing has seat designation, and could be purchased 60 days prior to departure date.  No advance reservation by phone possible.