Bermuda Travel Information, Bemuda Maps
Find the best accommodation deals Hamilton right here!
Area: 53 sq km (20.59 sq miles)
Population: 66,536 (2008)
Capital: Hamilton
Language: English
Religion: Anglican, Episcopal, Roman Catholic
Time Zone: GMT -4
Electricity: 110 Volts AC 60Hz
Passport: A valid passport required
Currency: Bermuda Dollar (Bda$) = 100 cents
Health: No Special Precautions
Climate: Semi-tropical, with no wet season.See Travelling in Disaster Prone Areas
International Dialling Codes: 1-441
Geography of Bermuda:
Bermuda (often misspelt as Bemuda) consists of a chain of some 150 coral islands and islets lying 917 km (570 miles) off the coast of South Carolina, in the Atlantic Ocean. Coastlines are characterized by a succession of small bays with beaches of fine pale sand. The waters are a vivid blue-green. Inland there is an abundance of subtropical plants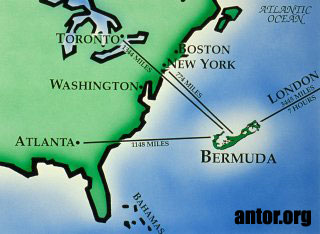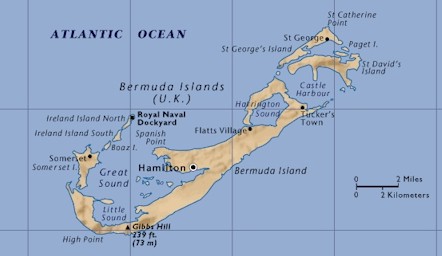 Bermuda : Accommodation
Bermuda, a British territory, is a small little country that's only 21 square miles. It is recognized as one of the world's classiest and refined islands. The country offers luxurious lifestyles, a fascinating history and culture, and the friendliest and most hospitable residents. Bermuda carries a mysterious charm to it, further perpetuated by its dramatic history and the infamous Bermuda Triangle. It's a country that mostly appeals for couples or holiday makers who are willing to spend a little.
Resorts
All of Bermuda's resort hotels are classically luxurious. Most appear to be a world of their own with staff to cater for every whimsical need and want with shops, restaurants, spas, salon, bar, night clubs, sports activities and private beaches to make sure you are comfortable and content within the resort premises. A few recommended resorts are as follows.
Newstead Belmont Hills Golf Resort and Spa
An infinity pool, 18 hole golf course, a spa, private balconies, concierge service, housekeeping, breathtaking views, large bathroom, fully equipped kitchen, exquisite furniture, comfortable bedrooms - this is only a little bit of what Newstead has to offer. For further information, contact +441 236 6060 .
The Fairmont Hamilton Princess
A stunning hotel overlooking a spectacular harbor, The Fairmont Hamilton Princess is elegant and a symbol of timeless beauty. With a freshwater pool, a saltwater pool, several restaurants and the widely acclaimed Heritage Court that serves the very best afternoon tea in Bermuda , you are spoilt for choice. There are lots of activities from snorkeling, tennis, jet skiing, riding the scooter to golf and more! The sophisticated rooms with elegant furnishings have a Victorian touch and all have amazing views. For more information, contact +441 295 3000 .
Cambridge Beaches
A place where relaxed sophistication reigns, Cambridge Beaches offers unique individually designed cottages, private beaches and a wide range of activities to keep you entertained. The resort offers packages to suit families, honeymooners, anniversaries, etc and a spa as well as several restaurants to especially cater for your desires. Invigorate yourself by unwinding and simply enjoying the pleasures of your exclusive room or go out there and explore Bermuda . Your choice. For further details, contact +441 234 0331.
Other resorts that are also available are : Coco Reef Resort Bermuda, Elbow Beach Hotel, The Fairmont Southampton, and St George's Club.
Hotels
Most of Bermuda 's hotels are internationally acclaimed. The hotels offer the usual assortment of bars, restaurants, pools, private beaches, spas, sports activities and everything else you could ask for to satisfy your every desire. At the same time, the hotels are more personable to allow you to bond and truly get a taste of this small country and will make you feel right at home.
9 Beaches
Offering cabanas that are literally on the beach or on stilts above the water, you are sure to get magnificent ocean views and have a unique stay at 9 Beaches. Spread over 18 acres, the cabanas are spacious, airy, comfortable, have a queen sized bed, fridge, hair dryer, air con, are nicely furnished, and made up of sail-cloth like material! The décor has a beach theme with bright colors to finish off for a perfect touch. For more details, contact + 441 239 2999.
Surf Side Bermuda
Within close proximity to Hamilton and offering accommodation ranging from cottages to apartments to suites. The Surf Side Beach Club offers a restaurant, bar; beauty salon and mini-spa to ensure all your needs are met. The accommodation is situated amongst gardens on cliff tops overlooking the ocean. The rooms offer a balcony, private bathroom, kitchen, cable TV, charming furnishings and more. This hotel will cater to your budget and lifestyle. For more details, contact +441 236 7100.
Willowbank Bermuda
Not only is this a beautiful resort residing near the beach, Willowbank Bermuda is fundamentally a Christian hotel that welcomes all visitors. Reflect on your spiritual life in a choice of water view deluxe room, garden court rooms or pool view rooms. All rooms are attractive with pleasant decoration, private bathroom, fridge, laundry facility, coffee maker, hair dryer, balconies and more. The dining experience is unforgettable with an impressive array of food, all blessed before eating. For further enquiries, contact +441 234 1616 .
Waterloo House
Known to be an oasis of charisma and serenity, Waterloo House is perfect for those wanting both business and pleasure as it's within close proximity to the business location but is also a great place to explore Bermuda . With a private boat launch, a huge variety of activities available to entertain you, a restaurant headed by an award winning chef, a beauty spa, Waterloo has everything you need. All thirty rooms are fitted with appropriate business appliances and offer bedroom, bathroom, nice views, terrace and are each varied in size, interior design and furnishings. There are also seven luxurious suites. For more details on the Waterloo House, contact +441 295 4480.
Pompano Beach Club
An ideal place to suit everybody, Pompano Beach Club overlooks the stunning ocean and has its own shallow sandbar, the only one of its kind in Bermuda . There is a golf course next door, an extensive range of recreational activities, several restaurants and bars and accommodation offering ocean views. The units are non smoking, are decorated with a tropical theme, have king sized beds, serviced twice daily, bathroom, fridge, cable TV, internet access, etc. For further enquiries, contact +441 234 0222.
Other hotels : Ariel Sands, Grape Bay Beach Hotel, Harmony Club, The Reefs, Rosedon, The Wharf Executive Suites, Horizons and Cottages.
Apartments
Most of the apartments in Bermuda are ideally situated and are fully equipped with kitchen, laundry and bedroom facilities to ensure your complete comfort. Most have stunning views and are in close proximity to shops, restaurants, bars and recreational activities.
Summerside Apartments
Offering excellent views of the harbor and located in a serene neighborhood within walking distance to the main town centre, Summerside Apartments is an appealing place to stay. There are three units available and they all have heating, air conditioning, fully equipped kitchen, cable TV, DVD, unlimited phone calls, internet access, laundry and free linen service and weekly cleaning. For more details, contact +441 535 6404.
Rosemont Guest Apartments
Rosemont Guest Apartments offer a pool, views of Hamilton Harbor , provide help regarding rentals and will give you free daily newspapers, morning coffees and provide coin operated soft drink, snack and laundry machines. The apartments are within close proximity to town. There are fully equipped kitchens, large bedrooms, bathrooms, comfortable furniture, private balcony, wireless internet, daily maid service, are wheel chair friendly and can fit up to four people. For further enquiries, contact +441 295 3913 .
Brightside Guest Apartments
Casual and relaxed is the best way to describe Brightside Guest Apartments which is situated in the centre of Flatts Village . Offering accommodation to suit one to eight persons, all rooms are fully furnished, have fans, air conditioning and have all necessary amenities to make your stay enjoyable. If you would like to know more, contact +441 292 8410 .
Other apartments : Dawkins Manor, Domaine Decouto Apartments, Erith Guest House, Ocean Terrace, Sandpiper Apartments, Vienna Guest Apartments, Mazarine by the Sea.