Florida Travel Information
Area: 58,560 sq. miles
Population: 15 982378
Capital: Tallahassee
Language: English, some Spanish
Time Zone: GMT -5
Electricity: 120 volts AC 60Hz
Passport: Proof of citizenship required by Canadians. Passport required by all other Nationals.
Currency: Dollar (USD) = approx. 1.44 CAD
Health: No special precautions.
Climate: Florida's climate ranges from temperate in the north to subtropical in the south. While there is some seasonal variation in temperatures, natural conditions tend to moderate the weather throughout Florida.
Traveling in Disaster Prime Areas
International Dialing Code: 1+ (Area Code)
For Vacation and Attractions guide of Florida, click here.

Geography of Florida:
Surrounded by water on three sides, with more than 1,000 miles of open beaches, no point in Florida is more than 75 miles from salt water. Crystal-clear springs, thousands of fresh water lakes and rivers, lush green forests, sawgrass prairies, and rolling hills ribbed by groves of citrus fill the interior. Because Florida is so diverse, we often divide the state into eight geographical regions; (Northwest, North Central, Northwest, Central East, Central, Central West, Southwest and Southeast & the Keys) - each having their own unique character, climate, ecology and attractions.
The nation's oldest city, St. Augustine, beckons visitors to discover its charming cobblestone streets, historical landmarks and pristine beaches. Friendly locals, sunny days and lovely places to dine, play and become enlightened, welcome guests year-round.
Florida Timeshare Properties:
Widely known as the "timeshare capital of the world" Florida is home to thousands of beautiful timeshare vacation properties. Visitors traveling to Florida will find these luxury properties located in every section of the state, making it easier to enjoy each of the 8 unique regions. Though nearly every timeshare in Florida comes complete with large separate bedrooms, comfortable living rooms, full gourmet kitchens and private balconies. Situated next to everything Disney and the Kissimmee/Orlando area have to offer, these multi-million dollar resorts offer guests a magical vacation with superior guest services and amenities, while still being extremely affordable.
You can search for flights to Miami, Orlando and the rest of Florida below -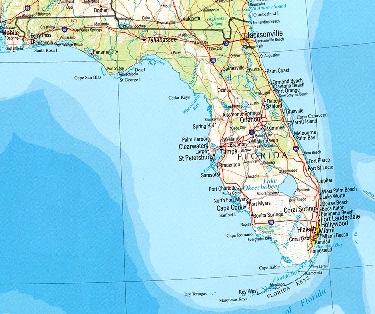 Click here for full size florida map