Washington State
THE YAKIMA VALLEY APPELLATION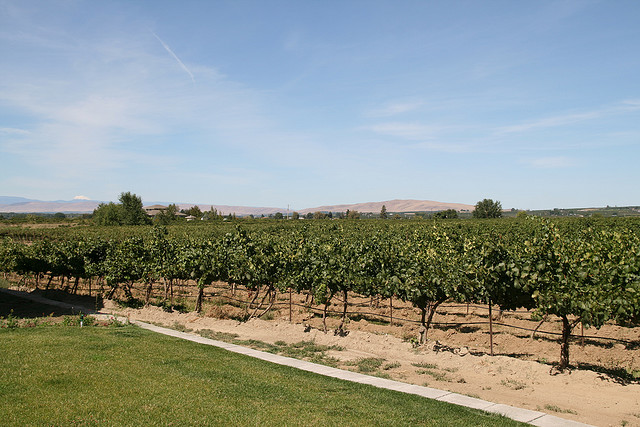 East along I-90 then south on I-82 leads to the Yakima Valley, an area which claims more than 7,000 acres of wine grapes and accounts for 40 percent of the state's total wine production.
Here is the family-owned, "hobby that got out of hand!" Bonair Winery, www.bonairwinery.com, known for buttery Chardonnays and intense Cabernets. Picnic in the gazebo, tour the art gallery, relax by the koi pond and waterfall, or wander through the vineyards with Bung the Wonder Dog. The winery is open daily from 10 a.m. to 5 p.m. except during winter. Bus tours and large groups are encouraged to call ahead, 509-829-6027.
Just a stone's throw east is Covey Run Vintners, www.coveyrun.com, 509-829-6235, whose name and label were inspired by the abundance of quail running about their vineyards. This romantic spot offers sweeping views of the lush Yakima Valley and towering Mt. Adams while visitors sip quietly on the winery's premium Johannisberg Riesling and steely Fume Blanc.
South on I-82 are several wineries positioned close to the Yakima River, including Tucker Cellars (509-837-8701), owned by one of the pioneer grape growing families in the state. Like many other family-run wineries in the area, Tucker features a fresh market offering a selection of home-grown fruit and produce, including corn, asparagus, beans, peppers, cherries, apples and more.
A few miles south is Washington's oldest winery, Chateau Ste. Michelle. This well-known facility is now owned by Stimson Lane. Call 509-882-3928 for information.
The town of Prosser is home to several excellent wineries, which draw some 30,000 visitors each year.Hogue Cellars, located in the town's Wine and Food Park, is one of the area's best-known labels. The winery is part of Hogue's 1,600-acre farm producing hops, concord grapes and other delectable fruits and vegetables. Their tasting room, where visitors may sip on Hogue's famous Merlots and Cabernets, is open daily from 10 a.m. to 5 p.m. (509-786-4557).
Kestrel Vintners (888-343-2675) is the newest winery at Prosser's Wine and Food Park (800-408-1517, www.prosser.org), where visitors can tour the facilities and sample Prosser's finest food and beverage offerings.
Locals suggest...Every President's Day Weekend, wine and chocolate lovers come from near and far to indulge themselves in the "Red Wine and Chocolate Celebration."  Sumptuous desserts are paired with finely-crafted reds served at several of the region's top wineries.
During the annual Thanksgiving in the Wine Country (800-258-7270), all Yakima Valley wineries treat visitors to samples of traditional holiday fare and newly released wines.
The Greystone Restaurant (509-248-9801) serves continental fare and the finest Yakima Valley wines. The restaurant's original 1899 greystone walls and high, embossed tin ceiling round out an elegant dining experience.