Washington State
FISHING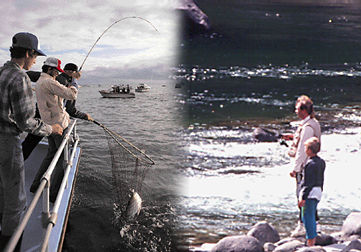 The Washington Department of Fish and Wildlife (WDFW) is on an April 1 through March 31 licensing year. The WDFW website offers links to news, regulations, licensing information, fishing guides, and tips.
YEAR-ROUND FISHERY AT LAKE CHELAN
The Lake Chelan Valley has been known for its world-class fishing since the first settlers arrived in the late 1800's. A new Washington State Record Lake Trout was caught in the lake - 35 pounds, 7ounces! This out-weighs the previous record, also caught in Lake Chelan, by over 4 pounds! Thanks to the Lake Chelan Sportsman Asso­ciation, Department of Fish and Wildlife, U.S. Forest Service, and other agencies, Lake Chelan has become one of the top fisheries in the northwest. Each year stocking programs release 100,000 Chinook Salmon, 60,000 Lake Trout, 100,000 Rainbow Trout, and 600,000 Kokanee into the cool, clear waters of Lake Chelan. The fish in Lake Chelan do not migrate - they are landlocked. The Lake Chelan fish­ing season is open year around, but please check the Washington De­partment of Fish and Wildlife fish­ing pamphlet for license requirements and limits.
SALMON, STEELHEAD AND TROUT
Located three hours west of Seattle, the unspoiled rivers that skirt the Olympic Mountains —Hoh, Bogachiel, Sol Duc, Quillayute, and Calawah—sport some of the world's finest salmon and steelhead fishing. Fall fishing: large runs of steelhead trout return to spawn in the Olympic Peninsula streams. Winter fishing: large numbers of steelhead return to most of the rivers a week or two before Thanksgiving with hatchery origin. Hatchery steelhead generally provide good fishing through early January and then give way to the larger wild steelhead around the New Year and continue to provide good fishing all the way through the end of April.
TROUT IN LOWLAND LAKES
Lowland lake trout fishing is the most popular angling activity in Washington State, with more than 17 million trout planted every year, and plenty of anglers out to catch them. Rainbow trout are the main draw, but cutthroat, brown, eastern brook, lake trout, and kokanee, which is actually a landlocked sockeye salmon, also provide plenty of recreational opportunities. Good bets for trout, bass, salmon, steelhead, marine fish, shellfish, panfish, sturgeon, walleye, and other species categorized by western and eastern Washington.