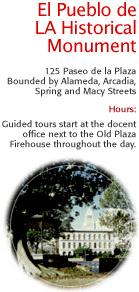 The forty-four acre El Pueblo de Los Angeles Historical Monument, created in 1953, is the oldest section of Los Angeles and the birthplace of the city's multiethnic identity. The Monument is comprised of twenty'seven historic buildings and sites including: the Old Plaza Church, the oldest church in the city built in 1822, the Masonic Hall (1858), the Sepulveda House (1887), and a statue of Felipe de Neve, who founded Los Angeles on behalf of King Carlos III of Spain in 1781. Olvera Street, the lively Mexican marketplace, and other must-see landmarks are also a part of this extensive park.
Location: Bounded by Alameda, Arcadia, Spring and Macy Streets
Hours: Guided tours start at the docent office next to the Old Plaza Firehouse throughout the day.