Costa Rica: Surfing Destinations
Find the best deals on accommodation at San Jose right here!
Break Descriptions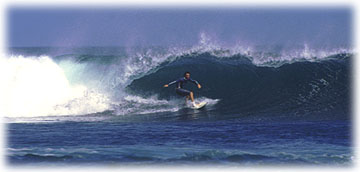 Best conditions: December through May
Base town for exploring local breaks: Tamarindo
Brief description: This area is much drier than the central & southern pacific and is geared specifically towards surfers. Best known for its offshore winds and consistent surf. Favorite spot of international longboarders such as Robert August, Wingnut, etc?This area offers an excellent variety of world class breaks from the point break of Playa Negra to the famous beach break of Roca Bruja (Witches' Rock).

Best conditions: April - November
Base town to explore local breaks: Jaco/Hermosa
Brief description: This area is known as the surf mecca of Costa Rica. The central pacific coast offers consistent surf year round, although noticeably better during the rainy season, April - November. This area is a preferred destination not only due to the incredible surf that can be found, but also because of its proximity to San Jose international airport (2 hrs). This area offers a wide variety of breaks from the pounding beach break of Hermosa to the traditional longboard wave of Boca Barranca.
Best conditions: April to November
Base town for exploring local breaks: Dominical, Pavones
Brief description: Due to its remote location, only the hard core surfers make it down this way. Dominical is a small surfers town with fairly consistent waves and an active nightlife. This is a great place to go when waiting for a south swell to put world famous Pavones in overhead conditions. Pavones has become famous for offering one of the world's longest lefts?unfortunately, some tension between locals & visitors have scared off many surfers from visiting this world class, remote spot.
Best conditions: November to March
Base town for exploring local breaks: Puerto Viejo
Brief description: Less visited than the more popular Tamarindo & Jaco, however the Carribean offers some of the heaviest surf in Costa Rica. This area is not for beginners. World class "salsa brava" offers a Hawaiin style reef break that leaves broken boards on a daily basis. We do not recommend that you surf alone over here. The Carribean side of Costa Rica is extremely beautiful with a variety of wildlife, a distinct culture and breathtaking landscapes and is certainly worth a visit.