Hamburg Sankt Pauli, Germany
Find the best deals on accommodation in Germany here!
Travelling to Hamburg, a true metropolis this is what we have planned next. In St. Pauli, people say, the seaport city`s heart beats. Red-light districts and sea romanticism la Hans Albers, these are the first ideas commonly connected with the quarter near the harbour so full of tradition. A prejudice, quickly refuted by our walk along the universally famous Meile, the Reeperbahn. Here the Hamburger Dom takes place, the city`s exciting popular fun-fair. Curious theatre- and musical stages stand in line with the most current in-bars and freaked-out discotheques.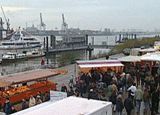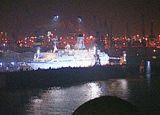 St. Pauli is hip! And if you are still not tired after a whole night Oauf Pauli, you can stroll over the lively Fischmarkt and listen to the amusing jokes of the fish-merchants. It`s a fact despite all changes, St. Pauli still remains a centre of amusement.