Hamburg and the Alster, Germany
Find the best deals on accommodation in Germany here!
As you'd expect from a port and seafaring city, water plays a key role in Hamburg. Most people think of the harbour, of course. But in fact, there's an artificial lake in the very heart of the city whose recreational and leisure value is perhaps even greater. Where else can you take a trip on a steamer, go rowing or even sailing in the very centre of a city. In addition we'll be inviting you to learn more, not only about the water sports, but also the cultural events going on all around the Alster.
We'll be visiting the Literary Cafo on the shores of the Alster, which has a varied programme of readings by international authors. Not far from Hamburg lies another recreational region: the Altes Land, Germany's largest connected fruit-growing region, a huge orchard full of apple trees, pear trees and cherry trees. And where there are lots of fruit trees blossoming, you'll also find lots of honey. Throughout the region beekeepers have put up their hives and offer the sweet delicacy for sale.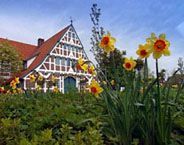 General Information:
Tourist-Information Hamburg
Steinstraoe 7
D-20095 Hamburg
Tel.: +49 (0)40 / 300 51 300
Fax: +49 (0)40 / 300 51 333
Additional sources of information:
Obstbauversuchsanstalt Altes Land
Helmut Hauschildt
Moorende 53
D-21635 Jork
Tel: +49 (0)4162/ 6016135
Fax: +49 (0)4162/ 6016600
Literaturhaus
Literaturhaus e.V.
Schwanenwik 38
D-22087 Hamburg
Tel: +49 (0)40-2200007
Fax: +49 (0)40-2206612
Segelschule Cpt. Pieper
Pieper Segelschule Bootssteg Atlantic
An der Alster
D-20099 Hamburg
Tel: +49 (0)40-247578