A Bike Tour Along the Elbe , Germany
Find the best deals on accommodation in Germany here!
Our second destination takes us along the Elbe, from Dresend downriver to just outside Hamburg. Germany's second longest river offers those willing to exert the effort, a wonderful way to discover the landscape and people along the river. There are bike paths on both sides of the river. We begin our tour in the picturesque Elbe Sandstone Mountains, through which the Elbe has cut its way over millions of years. Our first stop takes us to some of the sights worth seeing in the Dresden area. We then go to Magdeburg, which has a new main attraction this year, the BuGa Tower. Next, we pass through Prignitz, which is located in what was the inter-German border during the Cold War. This area is a sanctuary for plants and animals that have become rare elsewhere in Europe. Finally, about 50 kilometers outside of Hamburg, we end our tour in the town of Lauenburg, which was an important transshipment point for salt, known as 'white gold' during the Middle Ages.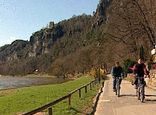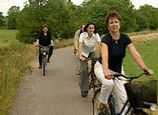 General Information:
Augustus Tours Dresden
Bischoffsweg 64
01099 Dresden
+49 (0) 351 - 8033280