News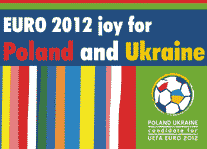 POLAND, TOGETHER WITH UKRAINE, HAS BEEN CHOSEN TODAY TO HOST EURO 2012!
Uefa executive commitee chose Poland and Ukraine to host 2012 European Football Championships!
The decision has been announced on Wednesday, April 18 by Uefa president Michael Platini, and caused an euphoric reaction among the the officials and football fans of both Ukraine and Poland.
It will be the first time that any country of the former eastern bloc will have organized organize a sport event of such rank and quality.
In Poland, stadiums of Warsaw, Gdansk, Poznan and Wroclaw, with Chorzow and Krakow as backups will host 16 best football teams of Europe.
More information on www.poland.travel
SEE YOU IN POLAND!!!!!
Tall Ships in Szczecin
Tall Ship's Race is probably the most prestigeous event that gathers beautiful yachts from all over the world in one place where their crews compete and the ships themselves are marvelled.
Szczecin will be proudly hosting them in 2007!
Ships from all over the world will compete on Polish waters for the 5th time.
Previously Poland hosted the event in 1999, when in Gdynia 90 ships, among which 20 biggest yachts in the world stood at the start of the competition.
About 2007 edition of Tall Ship's Race in Szczecin read on www.szczecin2007.pl.
Stunning gallery
Over 270 stores, 14 restaurants and 9 cafes in one place?
It is possible in the brand new, freshly opened, stunning Galeria Krakowska in the very heart of the city, right next to the central station.
A hotel which will be a part of the gallery will be opened in the spring of 2007.
Check out www.galeria-krakowska.pl.